Art Exhibition Design Lighting  – Flat, Flat Shiny Cat
Our exhibition lighting designers team, once again, illuminated the KCC's latest art exhibition design gallery in London.
The latest KCCUK Open Call II : The Flat, Flat, Shiny Cat. This contemporary art exhibition explores the different impressions of rhythm and slowness. Thus uniting the artworks of Hyemin Son and John Reardon in a unique, modern light.
Because the art exhibition design comprised of an immense mixture of art installations, many lighting challenges had to be overcome. One example of this was the art installation named Ruins. This art installation was made of six gigantic cuboids. It reproduced the present boxed in the water tank found in the corner of the art gallery.
Attributable to the scope and mass of the boxes in relation to the 3.2m ceiling height a sophisticated lighting design scheme had to be implemented. The lighting design solution agreed was dramatic, adding play of shadows and bright elements.
Lighting Contemporary Art Exhibitions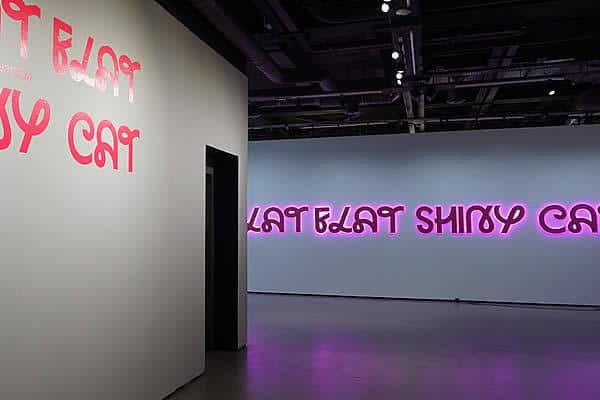 Furthermore, numerous light fittings, lamps and filters were upgraded to heighten the arts on display. LED ribbons were meticulously installed in varying lengths at the back of the lettering to create a pink glow from behind the title. In addition the white wall was then washed with 5000K LED light fittings, joined with wall washer filters to create a more even spread of light.
In a different section of the art gallery and also as part of the art installation, a visual artist executed a choreographed routine.  To enhance this performance a raised stage was built with a backdrop of white satin cloth. Therefore the back drop scene was designed to look ice cold with added sparkle. Here we used vivid cool white lamps directed to the cloth to achieve a consistent wall wash. This methodology also offered a slight theatrical lighting to accentuate the performer.