2017 Artist Of The Year Kim Yong-Ik Exhibitions – Art Gallery Design Lighting
Our art gallery design lighting illuminated the KCC's latest exhibition by artist Kim Yong-ik. This art exhibition marked his first solo presentation in Europe.
Spike Island, Bristol and the Korean Cultural Centre UK in London are the two venues for the first solo exhibitions in Europe by famous Korean artist Kim Yong-Ik. Kim has had a 40 year career as an artist, activist and teacher. Additionally Kim Yong-ik had a profound impact on the Korean modern art history. Kim's use of the polka-dots perhaps his most recognisable works. In this exhibition "I believe my works are still valid" the walls, canvases and art works all form one cohesive installation.
The exhibition layout was meticulously laid out and spaced to reflect this approach to contemporary art installation. Kim wanted the gallery lighting to form part of the art installation, rather than light being and external factor to light the art on display. He made clear he didn't want conventional exhibition or museum gallery lighting.
Two Major UK Exhibitions from Korean Artist of the Year 2017, Kim Yonk-IK
Therefore we started the process by setting up lighting mock-ups in the main exhibition gallery. These varied by offering different temperatures of light (warm, neutral to cool),various intensities and wall-washing. As well as,  a tightly focused banned of light running through and round the centre of the 3.2 meter walls. Yong- IK chose the latter as his preferred option. This meant that 36 degree LED lamps at 5000K (cool white light) ran around all of the gallery walls. We utilised 147 light fittings in all to achieve the desired effect.
We delivered a lighting design solution with great accuracy for there were large areas of wall that had nothing displayed. Therefore it was the light that made the connections within the installation. Installing 147 track lights which had to be spaced exactly the same with identical angle of tilt was extremely difficult to achieve. This was especially so in areas of the galleries where lighting track wasn't present. Once the lighting fittings had been finely adjusted and focused, Yonk-IK remarked "wonderful, exactly how it should be".
The exhibition at the Korean Cultural Centre was opened by his Excellency Joonkook Hwang the Korean Ambassador to the UK and Janet Bradley the Secretary of State for Digital, Culture Media & Sport. Many remarked to the Director of the KCC and Curator how the lighting had improved over the last 12 months. Furthermore, numerous VIP picked up on the way the lighting had been focused in all the galleries, emphasising the artist philosophy to contemporary art.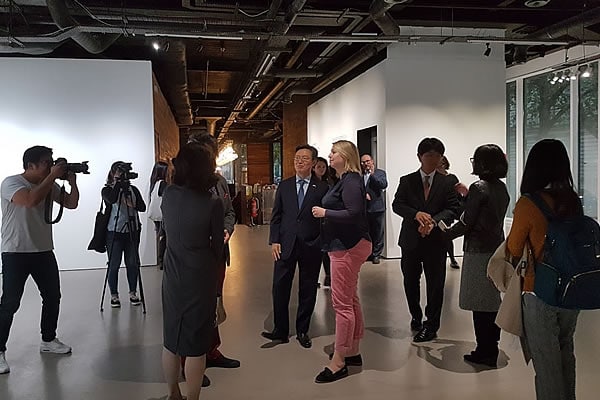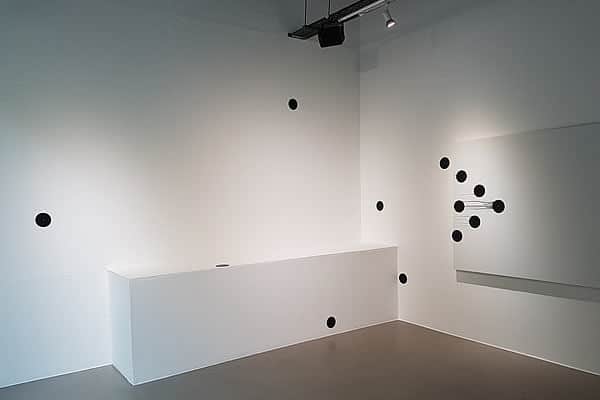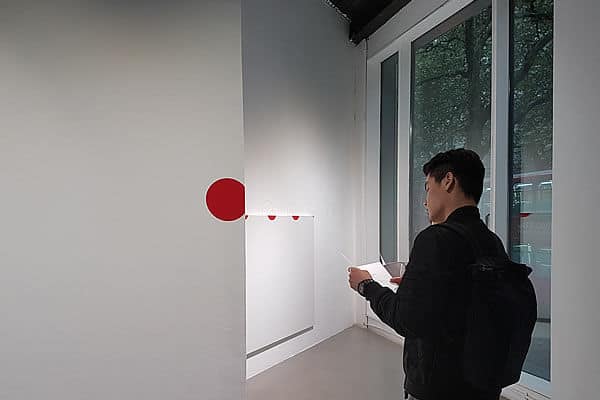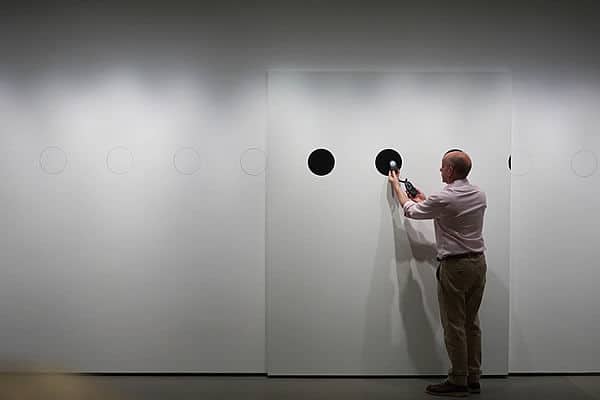 "For KCCUK, I intended to see the entire gallery space as part of the artwork. With this in mind, the lighting had to be lit evenly throughout the gallery wall, canvas, and works on paper, instead of highlighting the individual works as they do for exhibition lighting in a conventional sense. I was happy to work with lighting professionals who understood these intentions and materialized this plan with professionalism and in helping us to understand the processes involved." – Korean Artist of the Year 2017, Kim Yonk-IK